Do unhealthy meat eaters live shorter lives?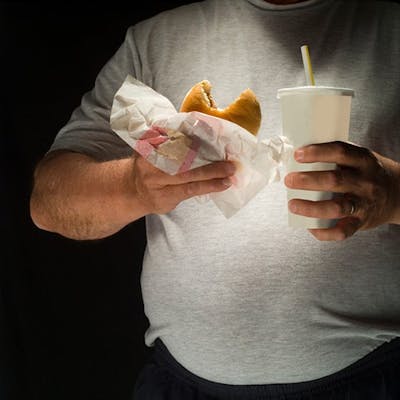 Meat eater
So it's time for another health scare in the media. Another thing that 'shortens life', this time red meat. But don't worry: as usual it's just a new uncertain observational study.
Today's warnings are more transparent than usual. Meat eaters do indeed die slightly younger, but what do you think they do besides eating meat?
In the media
LA Times: All red meat is bad for you, study says
The Telegraph: Red meat is blamed for one in 10 early deaths
The media has, as usual, no sense of how little these surveys (observational studies) really proves. Statistical correlations only gives us a theory – which then must be proven in more reliable, expensive and harder-to-do studies (RCTs).
For example, the number of drownings increases every year at the same time as sales of ice cream peak. That doesn't prove that eating ice cream makes you drown. There may always be confounding factors that aren't measured. Both ice cream eating and drownings are more common in the summer, in the heat. Today's study is overlooking a problem that's just as striking.
About the study
The new study is another statistical analysis of surveys from the famous Nurses' Health Study and Health Professional's Follow-up Study. They sent regular surveys to more than 100 000 U.S. health care workers from the 80's until 2008.
Then all respondents were divided into five groups, from those who ate the least red meat (to the left below) to those who ate the most red meat (to the right below). Feel free to look for yourself if it is anything other than their meat eating habits that differ. I have put arrows where it's particularly interesting to have a look:
The difference between meat eaters and other people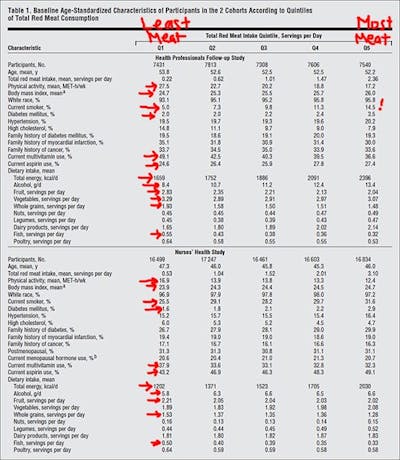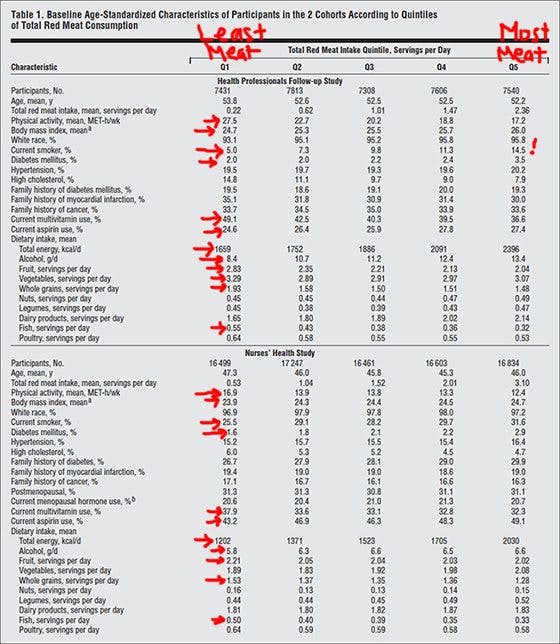 Meat eaters smoke, drink and lie on the couch
The data just screams that the group who ate the most red meat is also generally much more unhealthy:
They smoke up to three times more often!
They are exercising much less.
They are fatter and have more diabetes and hypertension.
They take less vitamin supplements and need more pain medication.
They eat a lot more calories.
They eat less fruit, less vegetables, less fiber and less fish.
The drink more alcohol.
Lack of logic
The researchers' logic (simplified) looks like this:
Smoking couch potatoes with obesity, diabetes and high blood pressure who drink more alcohol than they should and eat red meat and eat a lot of (junk?) food and don't take vitamins and don't eat fruit or vegetables and have pain problems and of choose white bread and instant pasta and do not eat fish die sooner. Thus meat is dangerous.
What you do not know
Of course the researchers have tried to compensate the findings for the biases above, using various advanced statistical methods. But you can never compensate for every single factor, especially not those you haven't asked about, and the need for complicated mathematical maneuvers makes the results even more uncertain.
Are there possibly other things that aren't compensated for? Do smoking, drinking, sedentary people ever do anything else stupid – which the study isn't compensating for?
The answer is certainly yes. You can probably think of things yourself. Here are four quick possibilities that may have shortened the life of some people in the unhealthy group:
More accidents?
More depressions and suicides?
More unsafe sex? (In the 80's – and 90's many Americans died from AIDS)
More negative stress, less sleep?
The elephant in the room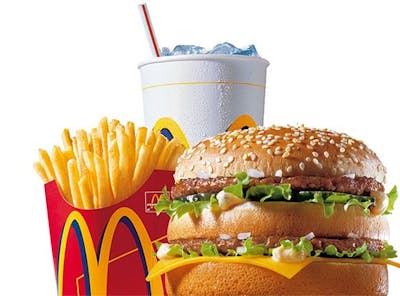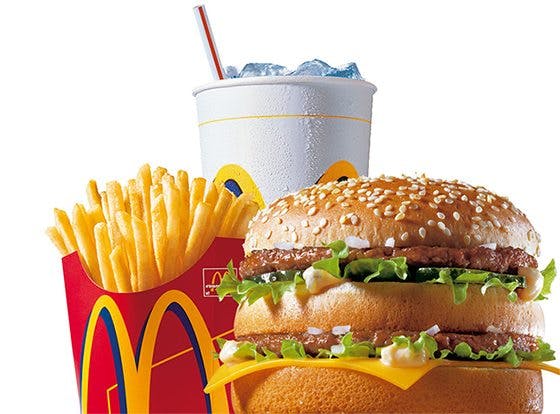 An American serving of red meat
However, one thing is missing the most. The meat eaters ate a lot more calories even though they ate less fruit, vegetables, whole grains and fish. So in addition to meat – what did they eat more of?
Nowhere in the study does it say anything about the amount of junk food or sugar that the meat eaters ate and drank. The results aren't adjusted for it. That's the real elephant in the room.
Is meat bad for you?
The only certain conclusion I can draw from this study is that if you divide the population into five groups, from least to most healthy, then the least healthy group, on average, tend to die slightly earlier.
But those news wouldn't produce any big headlines for the scientists. It would neither frighten people nor sell newspapers.
What do you say?
What do you think about the warnings against red meat?
This study
More
Do you want to know more about the funny mistakes about food and health that can easily be made by trusting uncertain observational studies? Then you want to see this hilarious and thought-provoking lecture: