More delicious ideas for a healthy holiday season
The holiday season is upon us and we want to enjoy it and have a good time with our loved ones. We invited four interesting LCHF profiles to share their best tips and recipes for treats without excessive amounts of bad carbohydrates.
Our second holiday-season hostess is the popular Swedish cookbook author and blogger Åse Falkman Fredrikson. Here are her best recipes and tips:
December is my very favorite month of the year. I enjoy more time indoors and with my family, I eat a little bit more of good food than usual and I unwind in December.

Unlike before, I feel great even in January! No extra pounds or sugar weaning and yet I've eaten well and a little extra all through December. Almost six years ago I changed my diet to a low-carbohydrate diet and this is a lifestyle that I wouldn't trade for anything in the world.

From having yo-yo dieted for 20 years and always been hungry and craving (and eating 5–6 times a day), I now have lots of energy, can go many hours without food and still not be hungry or feel low on energy.

I'm healthy and the low-carbohydrate diet is my basic diet and for the most part I choose not to eat gluten or sugar and I replace wheat flour and sugar with alternatives that are better for me. I have a nice balance in my life and I feel obnoxiously great!

At the beginning of the Holiday Season in December I try to gather my sisters and their families and my mother and this year we're doing a holiday potluck. Everyone brings something and my contribution is always gluten free and low in sugar (or no sugar at all). That's how I live my life. When I have guests I always serve what we normally eat in my home.

I love the challenge to convert recipes to better options. Personally, I don't crave sugar anymore and seldom eat goodies, even though they may be baked with almond flour and dark chocolate, but in December I'll of course have some!

My third cookbook will be published in late December to early January. It has great tips and tools for getting started on an active and healthy lifestyle. The recipes are of course gluten- and sugar-free. If you want them sweeter you may use a sweetener of your choice. There are many different needs, tolerances and opinions on which sweetener to prefer and which is best and of course you can skip it altogether.

In my book I have this recipe for cheesecake and to honor the holiday season, I've spiced it up with the holiday-season spice saffron!
Delicious Saffron Cheesecake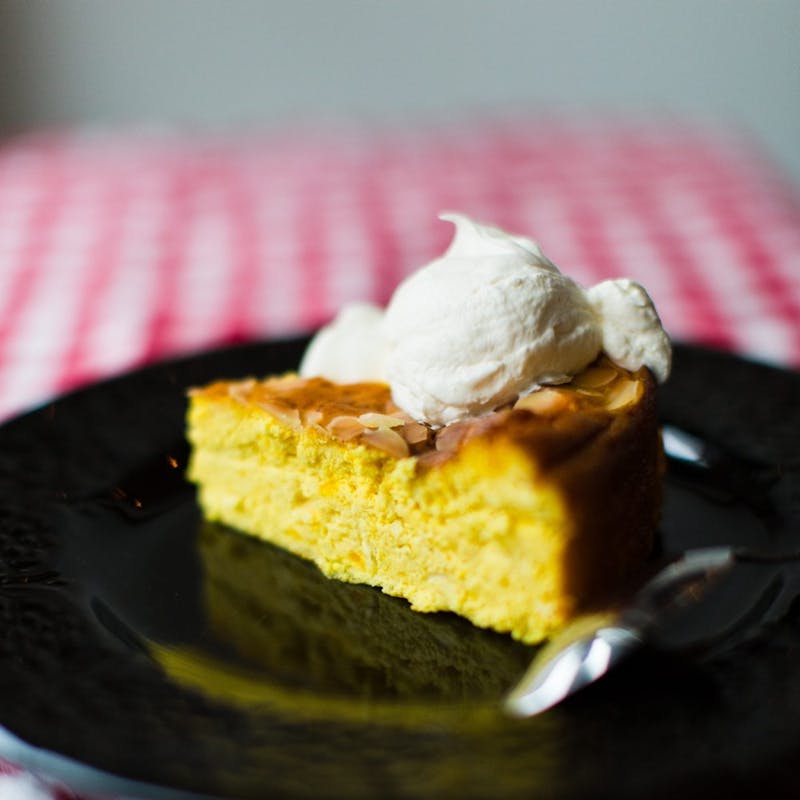 6 servings
4 eggs
(2 tablespoons sweetener of your choice – optional)
1 pinch (0.5 g) saffron
2/3 lb (300 g) cottage cheese
1/2 lb (200 g) mascarpone
4/5 cup (2 dl) heavy whipping cream
4/5 cup (2 dl) almond flour
1/2 cup (1 dl) flaked almonds
1 teaspoon vanilla extract
3–4 drops bitter almond aroma or 2 chopped bitter almonds
topping: 1/4 cup (0.5 dl) flaked almonds
Preheat the oven to 400°F (200°C).
Whisk the eggs together with or without a sweetener of your choice. Strain the cottage cheese from the excess fluid. Whisk down the other ingredients and pour the batter into a greased springform pan. Top with flaked almond and bake for about 40 minutes until the cake turns golden brown and feels firm. Cover with aluminum foil if it turns too brown and doesn't feel firm. Serve the warm cheesecake with lightly whipped cream.
Gingersnap Truffles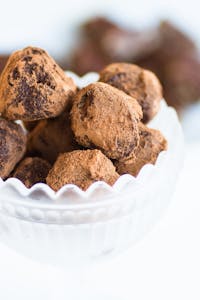 Luxuary for me on a holiday season evening is to curl up on the couch with a gingersnap truffle and a glass of warm eggnog, so here are my recipes for these:
1/2 cup (1 dl) whipping cream
2 tablespoons butter
5 ounces (150 g) dark chocolate, preferably at least 86%
1–2 teaspoons gingersnap spices (cinnamon, ginger, cloves, cardamom)
1 teaspoon cocoa powder (optional)
cocoa powder for garnish
Briefly bring the cream to a boil and melt the chocolate and butter in it (remove from heat). Stir in the spices and refrigerate for a bit to make it more solid, then bring out and roll or form to balls. Refrigerate and roll in cocoa prior to serving.
Eggnog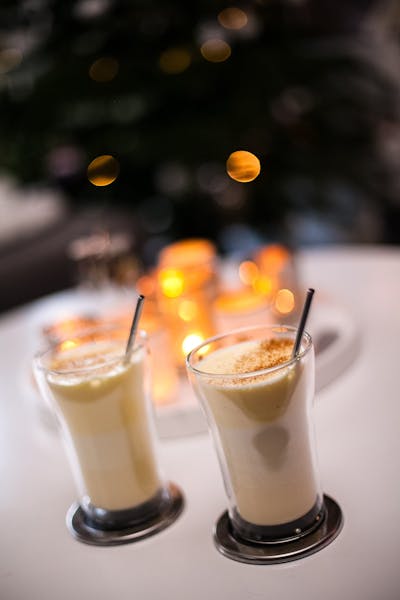 4 servings
4 egg yolks
4 tablespoons optional sweetener
vanilla extract
1/2–4/5 cup (1–2 dl) whipped cream or hot cream
optional: 2/3 cup (1.5 dl) rum or cognac
Whisk egg yolks with sweetener until white and fluffy. Pour into glasses with rum/cognac and top up with cream. Sprinkle some cinnamon on top.
Holiday Meatballs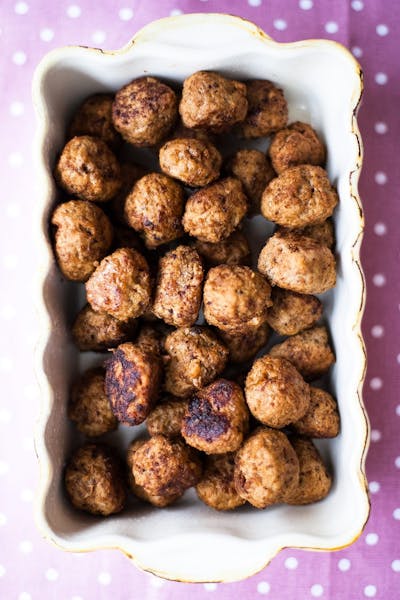 You can have meatballs as candy and my recipe is juicy and delicious – this is how I do it! You could skip the psyllium husk, but I think it makes them hold together nicely.
1/4 cup (0.5 dl) psyllium husk
2 lbs (1 kilo) ground meat of your choice, preferably organic
1/2 tablespoon salt
2 eggs
4/5 cup (2 dl) sour cream
1/2 cup (1 dl) whipping cream
2 tablespoons coarse-grained mustard
1 grated yellow onion
1 teaspoon ground allspice
1 pinch black pepper
butter for frying
Let psyllium husk swell in the cream for a few minutes.  First, stir in the salt and then the ground meat, then eggs and then the rest. Form small meatballs and place them on an oiled cutting board. Grease your hands to make it easier to roll nice meatballs. Boil water in a large pot and when the water boils drop in some meatballs. When they're done they will float. Remove and put in a strainer. Then fry in butter until nicely colored, and the meatballs will be round and nice.

Happy Holiday Season!
Thank you to our second holiday-season hostess!
Previously
First out among our four holiday season hosts was cookbook author and blogger Birgitta Höglund.