Congratulations to Rob, one of our contest winners!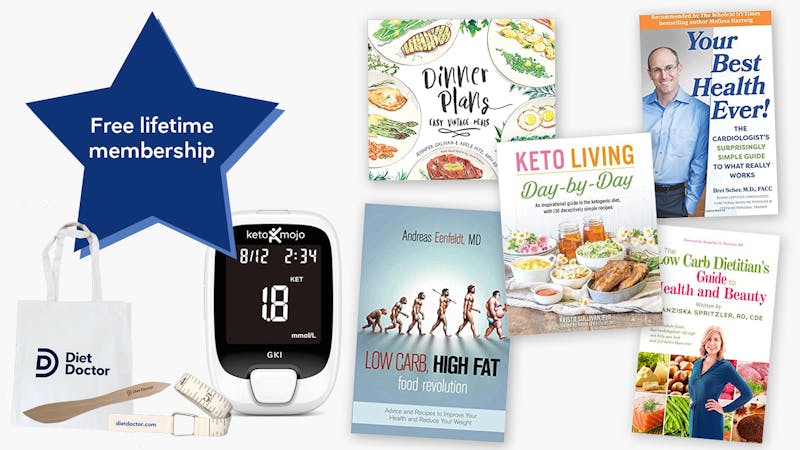 Big congratulations to Rob, a veteran Diet Doctor member. Soon, he'll receive his prize, the ultimate keto care package.
Rob isn't the only winner of this special prize. In fact, we were so excited to reach 75,000 members that we decided to pick two DD winners. The second winner is still to be announced. So, stay tuned!
What brought Rob to Diet Doctor in the first place? We asked him, and this is what he said:
How Rob ended up at Diet Doctor
I've been following Dr. Jason Fung, a world-leading expert on intermittent fasting, and practiced intermittent fasting for over two and a half years now, and have been mostly keto for about a year.

I've read Dr. Fung's books, along with anything educational on the topic I could find online, and it led me down a rabbit hole of health via fasting and ketosis that I find fascinating.

Two years ago, I was 208 pounds (or 94 kilos) at 56 years old. I suffered from pre-diabetes and had borderline high cholesterol. With the help of intermittent fasting, I went down to 180 pounds (or 82 kilos) in about eight months. To top it off, my blood work came back perfectly normal!

I then started eating keto during my eating window and went down to 164 pounds (74 kilos) — and am in the best shape of my life since high school.

With keto, I go back and forth because it's so easy to stray as life throws things at you. If I eat too much at a social event, I just fast for a bit afterward. It's no problem!

To me, winning this contest seems very appropriate, especially since I'm a huge proponent of intermittent fasting and keto. In fact, my wife warns me before each get-together with our friends and family to try not to talk about it so much. 🙂

Again, I'm a big supporter of this lifestyle, and when I saw that the site was charging for memberships, it was a no brainer to sign up.

Thanks!
Rob
Earlier
Contest: Who will be lucky member 75,000?
---
Start your FREE 30-day trial!
Not yet a member? With a free trial membership, you'll get delicious recipes, amazing meal plans, video courses, health guides, and weight loss advice from doctors, dietitians, and other experts.
Start free trial
---