Recipes for a healthy holiday season
The holiday season is here. This is a wonderful time of the year, but also one that can be difficult. The sugar over-doses succeed one another – chocolate boxes, holiday cookies and sweet drinks are just the beginning. The result, among other things, is that many people start the new year with more unwanted extra pounds.
At the same time we want to enjoy and have a good time with our loved ones. Could we do this in a way without harming ourselves? We invited four interesting LCHF profiles to the Swedish blog, where they share their best tips and recipes for treats without excessive amounts of bad carbohydrates.
First out among them is the popular Swedish cookbook author and blogger Birgitta Höglund. Here are her best recipes and tips:
Holiday with Wonderful Smells and Flavors
In recent years I've celebrated the holiday season in a different way. Lennart and I have escaped the darkness and cold of Sweden and spent December in our rented apartment in Alanya, Turkey.

But traditions are important, so I bring some of my holiday favorites with me.

To me, the holiday season is strongly associated with aromas. The week before Christmas I usually decorate the kitchen with oranges with a beautiful pattern of cloves. A wooden bowl filled with red apples sits on our kitchen table.

Small almond cookies, flavored with coconut and saffron, smell delicious fresh from the oven. A glass of ginger-laced mulled wine will go great with them.

These simple things bring warmth, light and wonderful scents right to the soul. The scents remind us of our childhood holidays, and not much more is needed to enjoy a cozy holiday season evening.

Here are recipes for some simple and delicious dishes to enjoy this holiday season. The mulled wine (Swedish glögg), salmon and the cookies make for wonderful holiday season treats. Santa's scrambled eggs are great both as a breakfast or as a simple dinner.
Mulled Wine with Blueberries and Ginger
1 quart (1 liter) blackberries or blueberries
1 cup (2 dl) water
20 cloves
2 cinnamon sticks
2 star anise fruits
1-2 tablespoons grated fresh ginger
Juice from 1 lime
Bring berries and water to a boil. Add spices and let simmer for 20 minutes. Remove from heat. Stir in ginger and lime juice, and let the mulled wine cool off. Serve as is or lace with a little vodka.

If you want the mulled wine a little sweeter stir in a little honey, or some other sweetener.
Almond Cookies with Coconut and Saffron
1 cup (2 dl) almond flour
⅔ cup (1.5 dl) dry, unsweetened shredded coconut
1 egg
1 ounce (25 g) butter
2 tablespoons honey, or some other sweetener
a pinch (0.5 g) saffron
1 teaspoon finely ground psyllium husks
whole almonds for garnish
Melt butter with the saffron to bring out more flavor from this precious spice.

Mix the egg with the sweetener. Stir in coconut, psyllium husk and ground almonds.  Pour in the cooled butter and mix the batter well.

Refrigerate for half an hour to swell. Roll into small balls and place on baking paper. I got 20 small cookies from this batch.

Press one almond into each cookie. Bake cookies at 350° F (175° C) for 15 minutes. Let cool on a rack.
Salmon Bundles, 4 Servings
8 slices of sliced smoked salmon
5 ounces Feta cheese
8 chive stalks
¼ cup (0.5 dl) diced red bell pepper
fresh herbs for garnish
Lay out the salmon slices in the shape of a cross. Divide the cheese, and add a piece centered on each salmon cross. Fold in the edges and tie around with a chive stalk.

Place the bundles in an ovenproof dish, greased with olive oil. Bake in oven at 400°F (200°C) for 10 minutes.

The bundles are of course also great to eat cold.
Santa's Scrambled Eggs, 1 Serving
3 eggs
¼ cup (0.5 dl) heavy whipping cream
½ apple
2 tablespoons chopped almonds
2 tablespoons butter
1 teaspoon cinnamon
Salt
Whisk together eggs and whipping cream with a little salt. Dice the apple. Brown the butter and briefly sauté apple dices, almonds and cinnamon. Pour in the egg mixture and keep stirring all the way from the bottom.

Remove saucepan from heat after a minute and keep stirring some more. Mix in some more cream if you like a creamier scramble. Salt to taste.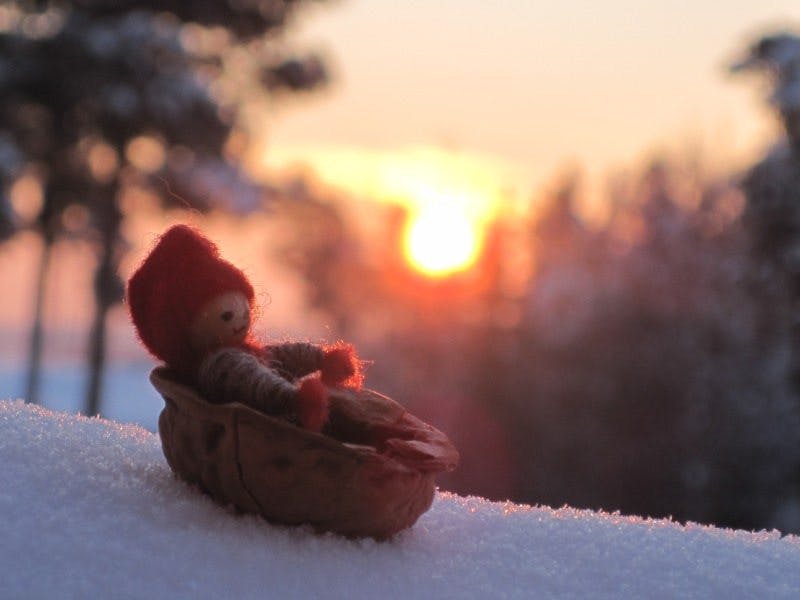 Thank you to our first holiday season guest host and I'm looking forward to the upcoming three.
What do you think about the tips? Do you have any good ones yourself? Feel free to leave a comment below.
Holiday Gift Suggestions
Birgitta Höglund's cookbooks will be available in English from Amazon.com in 2015: