Are eggs linked to higher or lower rates of type 2 diabetes?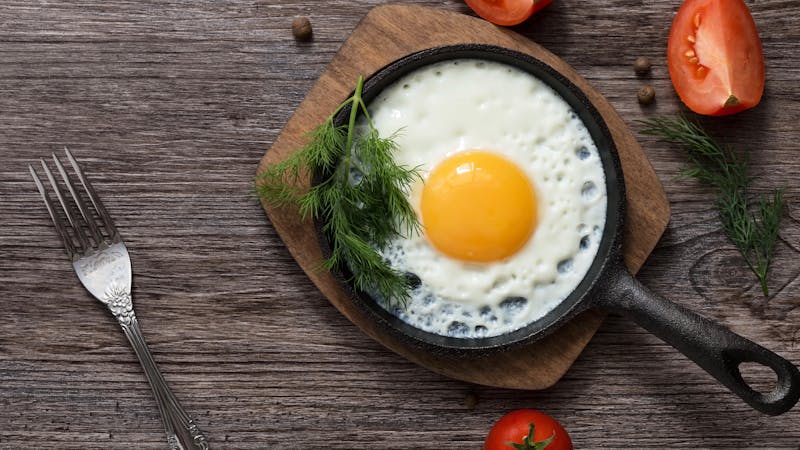 Is egg consumption associated with higher rates of type 2 diabetes? Not according to this recently published study. Older studies have shown mixed results, but this study looked at blood metabolites and found that higher egg intake results in blood markers associated with subjects who do NOT go on to develop type 2 diabetes.
Jyrki K Virtanen, PhD, lead author of the new study and adjunct professor of nutritional epidemiology at the Institute of Public Health and Clinical Nutrition at the University of Eastern Finland, conducted a study back in 2015 that showed a lower risk of diabetes associated with moderate egg consumption (one egg a day). He wanted to understand why. Dr. Virtanen explains:
The purpose of the current study was to explore, in this same study population, potential mechanisms and pathways that could explain this association. For this, we used nontargeted metabolomics analysis, which gives a comprehensive view of the different chemicals in a sample — in this case, blood.
Everyday Health: Eating eggs doesn't raise the risk of type 2 diabetes, study suggests
The impact of eggs on health has been controversial for decades; many of us remember the infamous Time Magazine cover, and its claims of an increased risk of heart disease for those eating too much dietary cholesterol.
But times, and scientific consensus, have changed, according to Dr. Virtanen:
Eggs have traditionally been considered bad because of their high cholesterol content. However, recent research has found that dietary cholesterol intake has just a minor impact on blood cholesterol levels in most people, and dietary cholesterol or egg intake has generally not been associated with increased risk of cardiovascular disease.
Sandra J. Arevalo, MPH, RDN, a spokesperson for the American Association of Diabetes Educators and director of nutrition and outreach at Montefiore Community Programs in New York City, who wasn't involved in the study says:
There is a lot of confusion over eggs. I think it comes from the fact that we've been concerned about high cholesterol and had the perception that eggs were bad. But new research has come out, and now we know that even though eggs are high in cholesterol, they don't affect body cholesterol levels as much as we thought. Egg white has a lot of protein. Eggs don't have carbohydrates. When you have diabetes, you have problems with carbohydrates, not with protein.
When you eat a low-carb or keto diet, eggs are a welcome addition. It is nice to see the science catching up with and vindicating the healthfulness of this natural, whole food. We saw a similar vindication of full-fat dairy last year.
Eggs have indeed gained in popularity of late. The most liked picture on Instagram (as of this writing) is — you guessed it — a picture of an egg!
Earlier
The Times: more eggs, please. Cholesterol is ok now
Does cholesterol cause heart disease? New study says no
High LDL cholesterol may protect against dementia – don't tell the statin pushers!
Our top recipes with eggs