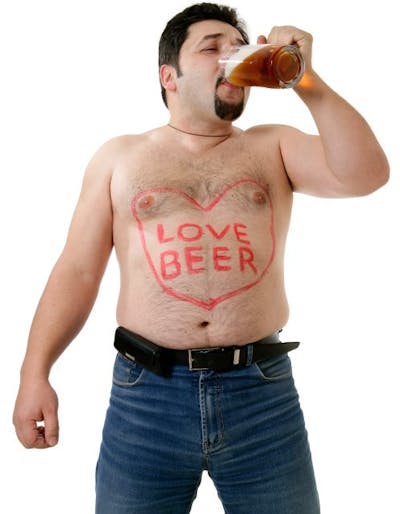 Is the beer belly a reality or a fantasy? Here's another random expert claiming to have "calculated" that the beer belly is a myth:
It reminds me of the old idea that the bumblebee can't fly, according to the laws of aerodynamics. Supposedly it's too heavy for its small wings (but by now science has figured out exactly how it works).
If the problem with alcohol was only due to calories, both wine and spirits should be worse for our weight than beer. But in language after language there exists a special word for "beer belly", but not for "wine belly". Here are a few examples:
German: Bierbauch
Spanish: Panza de cerveza
Dutch: Bierbuik
Estonian: Õllekõht
Swedish: Ölmage
The difference can be explained by the fact that beer isn't just full of alcohol. It also contains plenty of rapidly digested carbs, that raise the blood sugar and the fat-storing hormone insulin. Thus beer has a different hormonal effect than wine. Beer tends to promote fat storage.
Beer bellies can't be explained by calorie counting, but that doesn't mean that reality is a myth. It's just another example of how often simplistic calorie thinking misses the point.