Ancestral health, obesity and smurfs
During the Ancestral Health Symposium there was, not surprisingly, a lot of talk about the health of our ancestors.
Some of what was said seems likely, for example that our ancestors were probably very fit compared to any modern couch potato. But let's be careful. It is very easy to find flimsy support for what we want to believe.
Our ancestors were lean?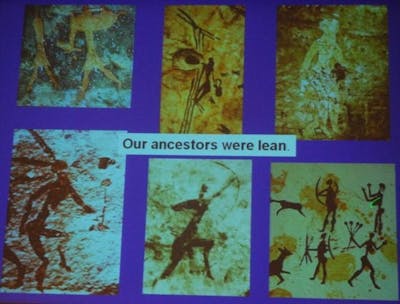 The slides above is from the lecture by Boyd Eaton, the first of the AHS. Do cave paintings prove that our ancestors were lean? Let's be careful before making premature conclusions. This is uncertain territory, where we can find support for just about anything.
A year ago I went to the International Congress of Obesity. There I listened to George Bray, one of the leading obesity researchers during the last decades. He was convinced that obesity is purely a matter of more calories in than calories out. How then to explain the fact that obesity is a new problem? Easy, you deny it.
According to Bray, obesity has always been a problem. This he knew, because our ancestors used to make statues of obese women more than 30 000 years ago.
Our ancestors were fat?
This is the famous statue Venus of Willendorf. Carving similar "Venus figurines" was a tradition in Europe spanning the time period 35 000 – 10 000 years ago. This could mean there really was an obesity problem back then.
But that is not all.
Our ancestors were tall?
This made me think of my travels in eastern Africa in the nineties. Why? Because they used to make wooden statues of very tall and slim people.
I did not see any people looking like that on the streets. But perhaps there used to exist such people a long time ago, and people are still making similar statues.
Our ancestors were short and blue?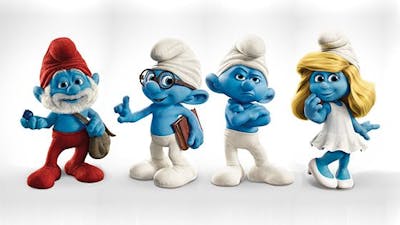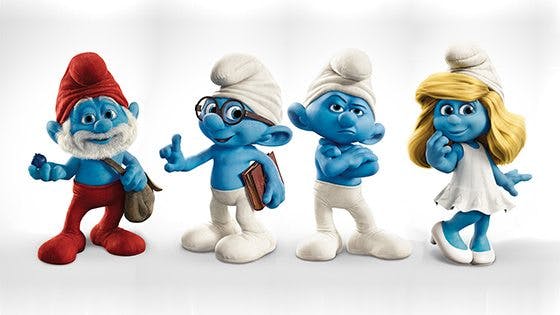 On the other hand we need to consider the Smurfs. I do not think any such small blue people have existed.
According to my research on the subject, the Smurfs are instead based on the imagination of the Belgian cartoonist Pierry Culliford.
Behaviorally modern humans
The question is: When did humans develop an imagination? When did they start to draw things that they had only seen inside their heads?
Humans looking like us has existed for 200 000 years. But humans behaving like us started appearing around 50 000 years ago. That's when we began producing complicated artifacts, paint and live in rapidly evolving societies. The spark may have been that our brains and vocal chords became capable of forming modern language. We could share our thoughts, and learn from each other.
Humans have probably used their powerful imagination at least since that time.
Art is not reality
This means that we can not think of human art as pictures of reality. Art is not like a photograph. Not now, and not 30 000 years ago.
Art is imagination. This means that paintings or carvings of lean, or fat, or tall, or short people do not prove anything.
Modern hunter gatherers
So what do we know about our ancestors? We know what happened to hunter gatherers (eating no agricultural or industrial foods) living into modern times. They were uniformly lean and almost free from western diseases like diabetes, heart disease and even cancer.
Imagine combining modern society with our ancestral health.
More
Across the river for water: Surgery for diabetes