About Diet Doctor
Regaining health in a sick world requires thinking and acting differently. It requires trusting not in corporate propaganda or old misinformation, but in nature. In the power of your own body to return to its natural state, given the right environment and lifestyle.
Our mission is to find the most trustworthy science and practical knowledge about health that exists, make it inspiring and simple to use, and make it easily available and free. Thus empowering people everywhere to revolutionize their health.
There's a great need for this. While there is a lot of free information available online, most of it is hard to trust. Websites are often trying to sell a specific product, a pill for your ill, or push an agenda (or even pure misinformation) for the people funding it.
Real health, however, can't be found in a pill. And nobody can outrun a bad diet. Unbiased information and free and inspiring tools to revolutionize your health is hard to find. We aim to provide it.
Quick facts about Diet Doctor
Purpose: Empowering people everywhere to revolutionize their health.
Mission: Making low carb and keto simple.
Values: Trustworthiness, Simplicity, Inspiration, and Goodness.
Founded by Dr. Andreas Eenfeldt, MD, in 2011, after Swedish beginnings in 2007. Learn more
Fast-growing, now over 20 full-time co-workers and over 20 freelancers, moderators and partners. Do you want to join us? Visit our careers page.
Headquarters in central Stockholm, Sweden (on Vasagatan 40). Some team members work remotely.
Over 350,000 visits per day, making it by far the largest low-carb site in the world.
No money from industry, no products for sale, no ads.
Fully funded by the people – over 50,000 members.
Free (membership optional).
A broken world
Something is badly wrong. While the prosperity of the world has never been higher, people are suffering. More and more people – the majority in the Western world – are obese or overweight, and a high percentage of them on prescription drugs every day for the rest of their lives.
Every year more people are added to the sad statistics. As we get increasingly richer as a society, our health appears to be declining. Why is this?
People feel guilt and shame, as if the excess weight, hunger and tiredness were their fault, a moral failing. They count their calories and attempt to eat less food and exercise more, but it's not working. If only they had more willpower.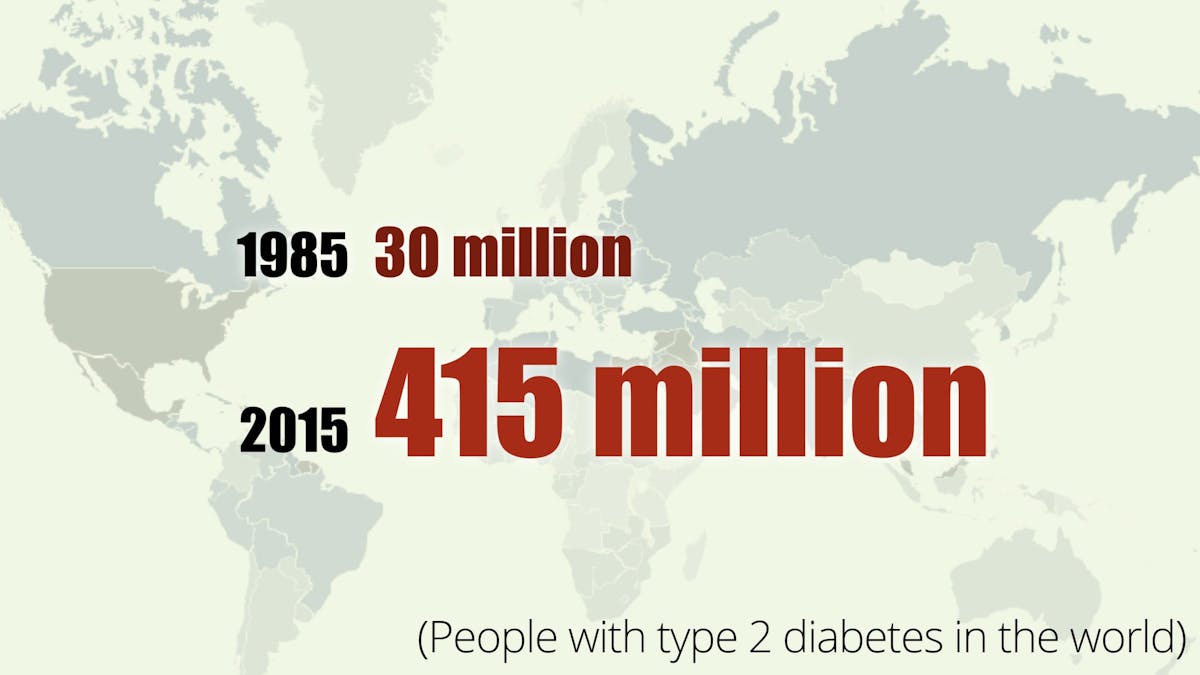 Diabetes type 2 – a new epidemic in the history of humankind – will soon impact 500 million people. The death toll will be enormous, as will the armies of people suffering the consequences: blindness, dementia, heart disease, cancer. This new disease is considered incurable, and the treatment is daily drugs to reduce the symptoms. There is no cure, experts say.
Obesity – another new epidemic that will soon include half the population – is considered almost as incurable. The only effective treatment is said to be bariatric surgery, i.e. surgically removing parts of healthy organs. This operation carries a significant risk of life-long misery and sometimes even death. And a year after surgery, the excess weight usually starts returning.
And even worse, epidemics of obesity and diabetes are just the tip of the iceberg. As these problems spread across the world, other diseases follow closely behind: heart disease, cancer, eating disorders and food addiction, high blood pressure, ADHD, depression and on and on.
Experts still trumpet eating less and exercising more to slow down the epidemics, and they have been advising this for 30 years as the problems have exploded. These recommendations are not working.
It may be even worse. The problem really started to get bad in the early 80s, just when we were told to eat "healthily", just when the first Dietary Guidelines for Americans were released, and then copied around the world. That's when the epidemic started.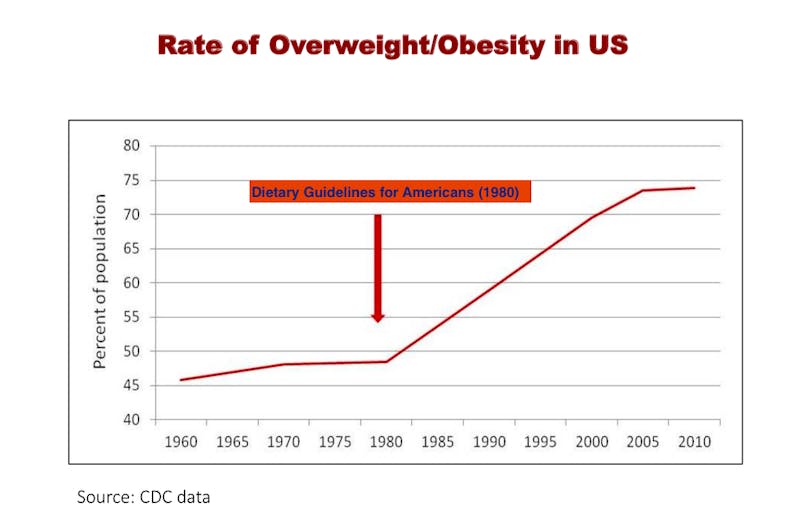 Possibilities and what's holding us back
Something is very wrong in the world today. Our bodies are made to stay healthy throughout our lives and supply us with the energy to reach our goals and our potential. We can absolutely return to this natural state. With the resources the world has today there should be no stopping us.
This is not about a lack of willpower. You already have all the willpower you'll ever need.
Imagine a world where everyone can feel good in his or her body again, where all the children can run and play without having to stop and catch their breath every few steps, where there's no need for mass pill popping, a nation no longer on drugs, where nobody is obsessively counting calories to starve himself. Where health is normal again. Where we can reach our potential and care for each other. Where we use our willpower for higher purposes, together shaping a better world for our children.
Much of what we need to get there is already known. But it's not that simple. The food industry profits from selling cheap, low-fat, highly processed, nutritionally depleted and addictive food. And we're advised to eat at least every three hours. The pharmaceutical industry profits by selling daily medications to temporarily reduce the symptoms of all the diseases caused by the food.

These are trillion dollar industries. There's a lot of money to be made keeping you sick.
The truth is obscured by corporate propaganda, companies selling junk food and pills while using lies and misinformation for the benefit of their shareholders but to the detriment of humanity. It's obscured by government ineptitude, allowing corporations to rule via armies of highly-paid lobbyists, while relying on old experts who are often stuck in failed preconceptions, unable to update their thinking. That is, if the experts are not simply funded by corporations too.
Just as an example, it was recently exposed how Coca-Cola spends tens of millions of dollars buying the loyalty of government health experts and scientists as well as high-profile bloggers and personal trainers. To not mention the dangers of drinking sugar. To keep quiet about it. That's the reality behind their slogan about "open happiness" and billions of dollars of feel-good advertising. How are obesity, disease and lies the road to happiness?
It may seem impossible to change this. What can one person do? Not much. But together, using modern tools… if we have the will, we can change anything.
Towards the solution
What would you do if there was a clear way to make the world a better place?

Most of the truth we need is already out there, it is already known, many are already using it with fantastic results. What's needed is to find this truth and make it as simple as possible to use. To empower people everywhere to revolutionize their health.
This can't be achieved by using old thinking. We'll have to question everything. And it can't be achieved by selling a magic product, a pill or a packaged food product or by financing from the corporations that are profiting from the status quo. That's the thinking that got us into this mess.
Here at Diet Doctor we want to be a part of the solution. That's why we've decided to take no money from industry. We sell no food, no supplements, no other products and we have no ads.
Instead, we're fully funded by the people, via an optional membership (free trial available).
We give away for free to the world everything that is necessary, even if someone does not sign up for a membership. We're focusing on free simple guides, recipes and step-by-step plans, providing everything you need to lose weight without hunger or to cure diabetes type 2.
Welcome to Diet Doctor. Let us tell you more about reality and some of the misconceptions that stop people from achieving health and happiness.
The solution
The solution to the obesity and diabetes epidemics already exists. It's very simple:

That's basically it. Although there are additional details, if you want to lose weight effortlessly or to reduce your diabetes you should probably make a special effort to drastically reduce the carbohydrates, especially sugar and processed starch (like flour) that you consume.
Natural fat, like butter? Eating that is fine. Red meat? That's fine too. Calories? That's just another – bizarre – name for food. Eating real food is perfectly fine, as long as you are hungry. Counting calories and ignoring your hunger is an eating disorder.
Exercise? That's great for your health and well-being, but it's never going to make you thin. You cannot outrun a bad diet.
There's only one long-term solution that is truly effective. Eat real food, when you are hungry.
Why change is so slow
So if the problem is so huge, and the solution already exists – why is the problem not solved already?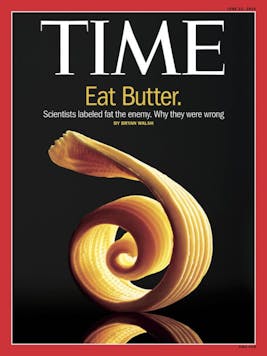 Because of inertia, old dogma and vested interests. Primarily it's just hard for us humans to change our minds. It takes time.
The mistaken fear of natural fat is still just alive, like some half-dead zombie – even though modern science has thoroughly disproven it. TIME magazine even put this fact on its cover in 2014. Fearing natural fat leads to even more high-carb, high-sugar junk food – so it's been a really bad idea.
There is also massive money to be made from the status quo. The entire food and pharmaceutical industries depend on it, and they employ armies of lobbyists and even researchers.
The food industry wants to divert the blame from their bad food (the real problem) to their consumers. That is why they to keep the focus on calorie counting, "personal responsibility" and exercise.
The pharmaceutical industry does not want people to get well. It's easy to understand why. That would put them out of business.
The government would love to improve the health of the people, but official agencies move slowly and are easy prey for professional lobbyists and influencers. Just look at Michelle Obama's sadly failed "Let's Move" campaign. As soon as the junk-food industry got involved, everything turned into empty pep talk, with no real change that anybody truly believes in.
Bringing the solution to the people

As no solution is coming from the top, it can only come from the bottom, from people like you and me. And it will, because nothing is so powerful as an idea whose time has come.
The Diet Doctor organization wants to speed this process up, and we have a plan to do exactly that. We want to make it very simple for you to understand and get inspired to revolutionize your health. After that, we want you to help other people – your friends, family, etc. – to revolutionize their health.
Then this good cycle can repeat and multiply.
Use the menu at the top of the page to find our best guides. And remember to sign up for our free weekly newsletter. If you do it now, you also get access to a free video course on eating a low-carb, high-fat diet.
Get the free Diet Doctor newsletter
– and instant access to bonus video course
Contact
Direct support questions about the membership, the newsletter etc. to support@dietdoctor.com (we will answer within 24 hours)
If you want to contact anyone in Team Diet Doctor send an email to firstname@dietdoctor.com. Please note that while we read all emails, we unfortunately have limited capacity to answer questions. Furthermore, we cannot give personal medical advice about diet or health by email.
The Food Revolution
This talk from 2016 summarizes the ongoing revolution. How we recognize old mistakes and the most effective way to improve our health and weight.
Possibilities
Do you want to help change the world? There are many things you can do. Here are a few suggestions:
Be a positive example and inspire the people around you (answering their questions is more effective than trying to persuade someone who isn't ready).
How do you become a positive example? Check out our guides such as How to lose weight or How to reverse diabetes type 2.
Do you just want to get started on low carb right away? Take The two-week low-carb challenge – it contains everything you need.
Learn more. Check out our member site – free trial available – that has a wealth of video courses, concrete expert interviews and Q&As, presentations and movies.
Consider supporting the Diet Doctor organization with a long-term membership at $9 per month. Our members support our fast-growing organization that now has 17 employees and many freelancers, allowing us to stay completely independent be free from ads and sell no products.
Teach others: Comment on blogs and discussion forums and in papers, start a blog yourself, prepare a lecture, talk to your doctor.
Feel free to share the link to dietdoctor.com. You may also use anything you find on this site in whatever way you like, if you mention the origin of it.
Do you have any other ideas? Please tell us in the comment section below.
Learn more
Read about the Diet Doctor story so far
Transformations
These are all people who transformed their lives using low carb. Click any image to read their stories:
Comments
Feel free to leave a comment below. However, if you have a question about our company or site that requires a fast answer, please email support@dietdoctor.com instead.